Time to take a look at this past week's looks from Fira Boutique that I wore on ciLiving!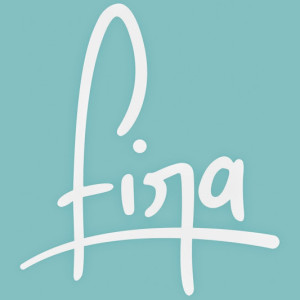 Spring has definitely sprung at Fira as the boutique is full of bright, fun colors and great dress options.  Still looking for a fun dress to sport this Easter?  Fira has a lot of great choices!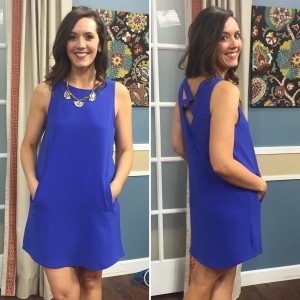 This look is a Jack by BB Dakota Mack Dress
 The crepe sapphire shift dress has a fun crisscross back and jewel neckline.  It would be fun to wear to a bridal shower, date night, or spring wedding.  Fira recommends pairing it with nude heels, but I went with nude flats. This dress was just too cute, and it comes in other colors!  Love it!  I bet it won't stay in stock long, better jump on it now! (And had to bust out my Sunless Tanner so I wouldn't look pasty in bare legs!  I think Anna has asked me for about a month now if I'm ready to go bare legged yet… Thankfully the tanner helped make me feel a little more confident!)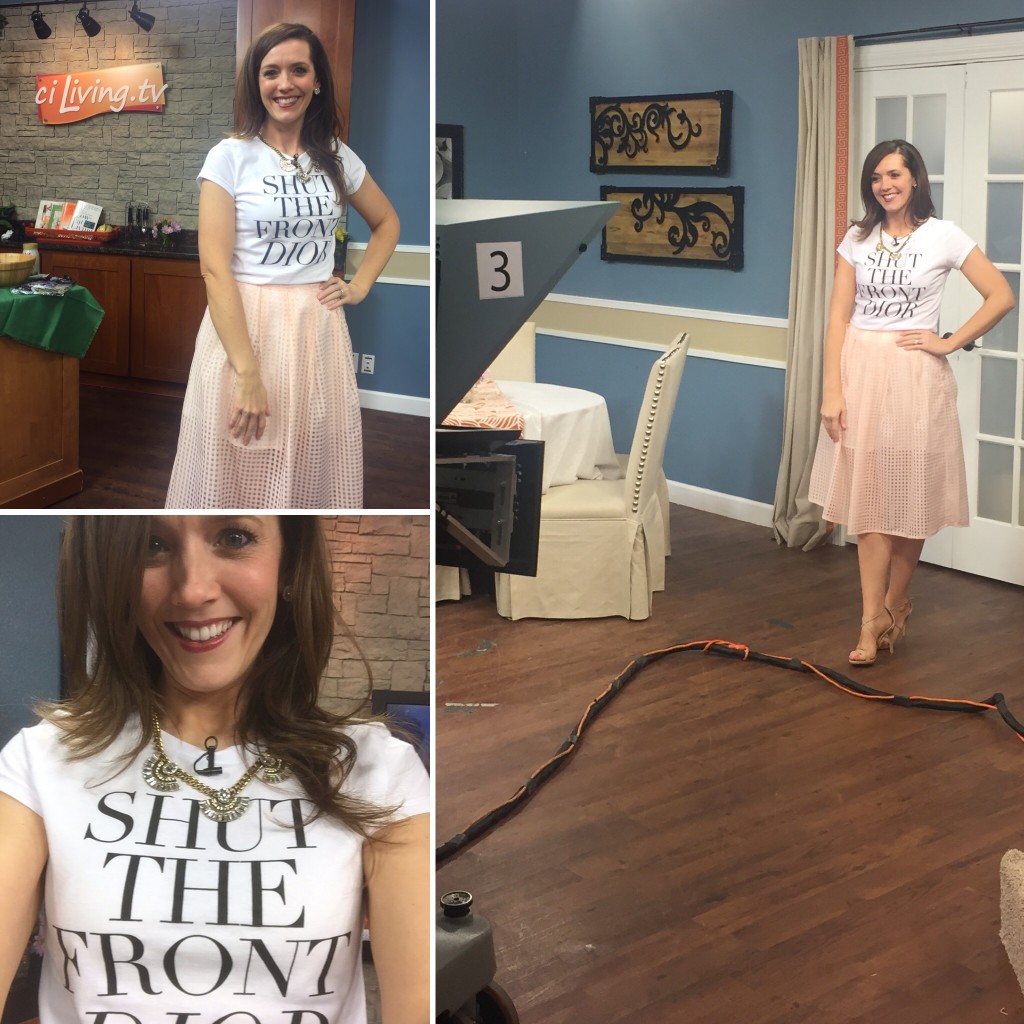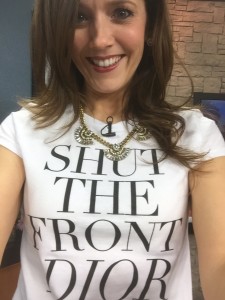 So, with this look Anna says to me, "Heather, would you ever wear anything like this???"
And honestly, I probably wouldn't have even picked this out to try on, but I said, "Sure, I'm game for anything!"
And I'm so, so thankful I did!
I LOVE this skirt!  Super flirty, very fun!  Another Jack by BB Dakota piece.  This Clarice Pleated Midi Skirt is a peach colored layered skirt with a slip underneath to show just a bit of leg.  This isn't posted online yet, so best head into the boutique to grab this one up!
And how darling is this shirt by t+j Designs?!
This black screen print tee features a round neckline and is pretty fitted.  I'm wearing a small and thought it fit well, but if you're looking for a looser fit, definitely size up.
Finished the look with a great statement piece necklace and strappy nude Steve Madden sandals (that I scored for only $5!) and BAM!  I'm feeling super glam!  Glad I took a risk with this look!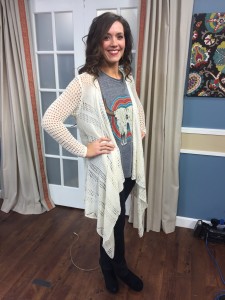 For my final look, we paired this Chaser Cowskull Tank with a crocheted cardigan by Jack BB Dakota Dawkins.
This cardigan is perfect for spring Illinois weather, when you're not sure if it's going to stick with being a little chilly or make up it's mind to be warm.  This crochet cardigan has an open weave and asymmetrical fit.
Paired the cardigan over this colorful cowskull graphic jersey tank. This tank features an easy relaxed fit with a round neckline and sides that dip low making it perfect to pair up with a cami or bandeau.
(And don't you love the IFB cord tail I've got going on?! LOL!)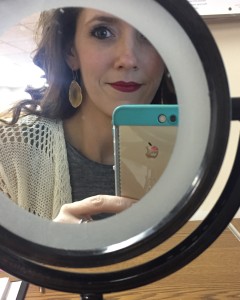 Red lips thanks to MAC Russian Red!
And these Virtue Jewelry earrings were the perfect accent to go with the Chaser tank.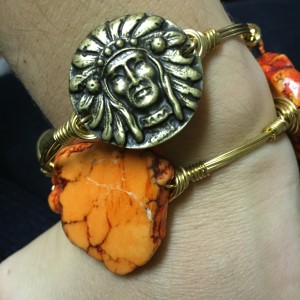 And finally it was a HUGE week for University of Illinois athletics!
On Monday the U of I's A.D., Josh Whitman, announced the hiring of Lovie Smith as the new head football coach!
How cool is that?!  I think it can go without saying that all of Illini Nation was fired up!
So, in honor of Lovie's big move to Illini Country, I had to sport my Bourbon and Boweties bangles! The CHIEF bangle and orange stone bangle are all handmade with gold plated wire.  I'm a big fan of the southern based jewelry company Bourbon and Boweties!  I have my eye on a pineapple bangle right now at Fira that I don't really know why I haven't scooped up yet!
Which Fira look this week was your favorite?